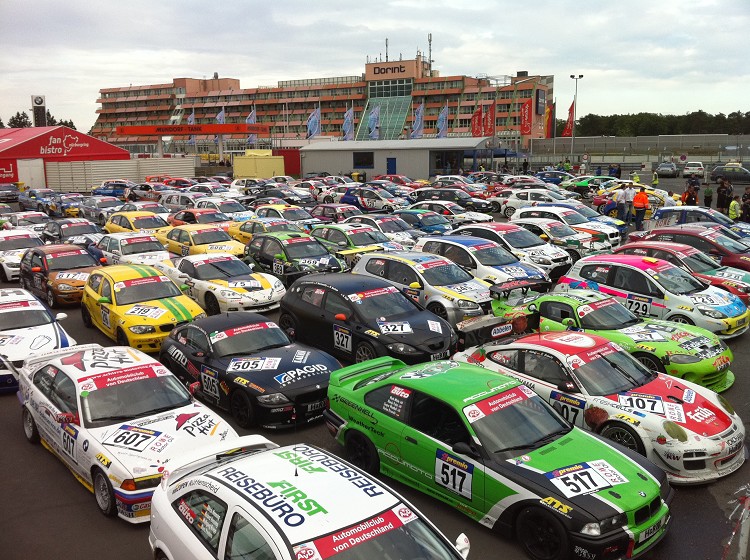 Posted (07/31/2010) -

Nürburg, Germany - American drivers Mark White, Randy Pobst and Cooper MacNeil finish eighth in the V5 class for the Green Hell Race Team in their Weathertech/Team Janica Racing/Hammer Nutrition BMW M3 during the

Veranstaltergemeinschaft Langstreckenmeisterschaft Nürburgring (VLN) 6hr ADAC (Allgemeiner Deutscher Automobil-Club)

Ruhr-Pokal-Rennen.

The All-American driver line up succeeded in completing the 6hr endurance event on the world's most grueling race circuit with their car completely unscathed. "Ours might be the cleanest car in the paddock!" remarked White surveying the virtual sea of cars waiting in impound after the event.

This was no easy task in an event that witnessed a staggering 199 cars start and "just" 133 finish on the notoriously treacherous 16.6 mile circuit. "This place is incredibly demanding on both the car and the driver" White continued. "You have to be 100 percent aware 110 percent of the time. You don't just drive this track, you survive it." I am really impressed with the effort the Green Hell team put in to ensure our car went the distance. That, and both of my co-drivers put in awesome stints!




Randy Pobst echoed the same sentiment; "After twenty-five years of racing, the Nürburgring gave me new thrills. A unique, dangerous, satisfying challenge like nowhere else. Our Green Hell Racing BMW M3 was utterly reliable. Congrats to my co-drivers Mark and Cooper for clean, fast driving."




That clean, fast driving resulted in the team picking up an incredible 41 overall spots, starting 102nd and finishing in 61st place. Team owner Darius Drzensla certainly liked the result; "All three drivers did an excellent job. To race in the VLN, you must be fast and fight many classes,

but you must finish. It is not easy to do all of this and I am very happy with our result!




Cooper MacNeil was also all smiles after the race; "I have raced with Randy before and having he and Mark as teammates was a lot of fun. What better place than the Nürburgring! Thanks to Darius and the team for preparing such a great car.




White summed up the weekend this way; "I love this place. When do we come back?"