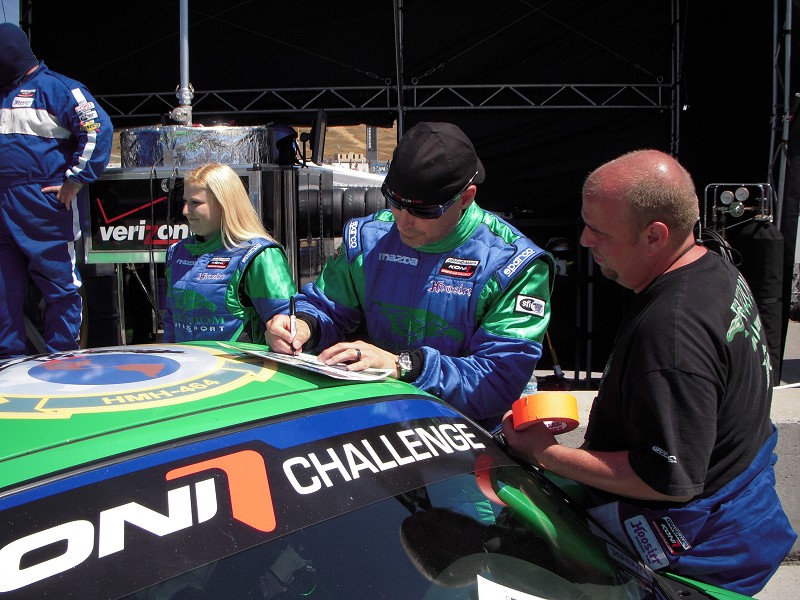 Posted (05/16/2009) -

Monterey, CA (May 16, 2009) - A weekend of spirited KONI driving at Mazda Raceway Laguna Seca came to a close with another top-10 finish for Freedom Autosport's #147 Mazda MX-5 under the helm of Mark White and co-driver Sarah Cattaneo.

"The car was spot on in every practice session" said White, who managed to arrive at Laguna Seca just in time for practice after a nearly 8-hour flight delay. "I wish Freedom Autosport worked on planes too," quipped White. "I bet there would be a lot fewer 'mechanical' delays!"

Cattaneo, competing in her first race with Freedom in the KONI series, qualified the car in 17th place. White commended her effort, saying "Sarah did a solid job in qualifying. She focused on keeping things clean and progressed every lap, which was awesome considering the small amount of seat time she's had in these Mazdas."

Race day was substantially warmer than prior practice days, with 80-degree temperatures making Laguna's 2.238 mile circuit even more slippery than it's famous for. Cattaneo held her position for the first half hour of the race and then began a steady march through the field. "Doug (car chief Doug Beckett) and I were really happy with Sarah's stint," said White, adding, "she hit every target time we gave her and responded well to the changing track conditions." White continued, "our driver change was a bit dicey and we lost a few positions, but Sarah handed over a clean car and we came out of the pits in P12." Cattaneo agreed, saying, "great communication from the team and my co-driver Mark really took a lot of the pressure off during my stint. I knew exactly what I needed to do!"

Although over 10,000 sq. ft. of concrete has been added to the Laguna Seca circuit in an effort to avert incidents which result in cautions, the KONI race still had plenty of yellow flags. Of his stint, White commented, "The KONI Challenge is notorious for close racing and I don't think any fans went home disappointed. The nature of the corners at Laguna means more often than not, you have two cars attempting to occupy the same space at the apex. Mix in all the sand brought on track from guys dropping wheels and you end up with a close quarters cocktail for contact! Surprisingly though, most of the battles I had were actually pretty clean."

Things finally settled down in the last half-hour of the race and, with the cautions behind him, White focused on advancing. "I was just beginning to get my groove on after that last yellow and I felt we still had a good shot at breaking into the top 5. Unfortunately the racing Gods had another plan and we were bitten by the proverbial 2-dollar part; the crew said they had never seen anything like it." A small fitting in car 147's brake system had burst, leaving White with a brake pedal that was growing longer as the clock ticked down. Laughed White, "The last few laps were really nutty. Kinda like a bad video game!" adding, "I knew I was in trouble when I ended up sliding backwards through turn 9 with about 4 laps to go. I didn't realize I had slipped on my own fluid until I showed up with no brakes in 11. After that I was checking up way early and I still ended up using a whole lot more of the runoff in the Corkscrew than I was planning on... twice, in fact!"

The checkered flag found the Freedom Autosport/Team Janica #147 Mazda MX-5 in 10th place with an elated driver behind the wheel. "We pulled a rabbit out of the hat today given the circumstances," affirmed White, adding "I couldn't be happier with a top 10 and that's two in a row for the 147!"

Along with teammates Derek Whitis, Tom Long, Rhett O'Doski and Andrew Carbonell, White and Cattaneo celebrated three Freedom Autosport cars in the top 10. An enthusiastic White said, "what a fantastic weekend, and what a great organization to race for. The crew worked their rear-ends off on the pitstops and having the other two cars on the podium just fires me up that much more! I'm happy for my teammates and excited about our chances at Lime Rock!" Added White, "I'd like to thank my personal sponsors Team Janica Racing, Prairie Hills Motorsports Club, 2BKool, Chin Motorsports and Performance Drink for their continued support. I would also like to welcome our new Aussie fans from FOOF in Brisbane, Australia!"

The Verizon Festival of Speed KONI Challenge race from Laguna will air Saturday, May 23 at 11:00 AM CST on SPEED.

Mark, Sarah and Freedom Autosport return to the Grand-Am KONI Sports Car Challenge Series on May 23 at Lime Rock Park.