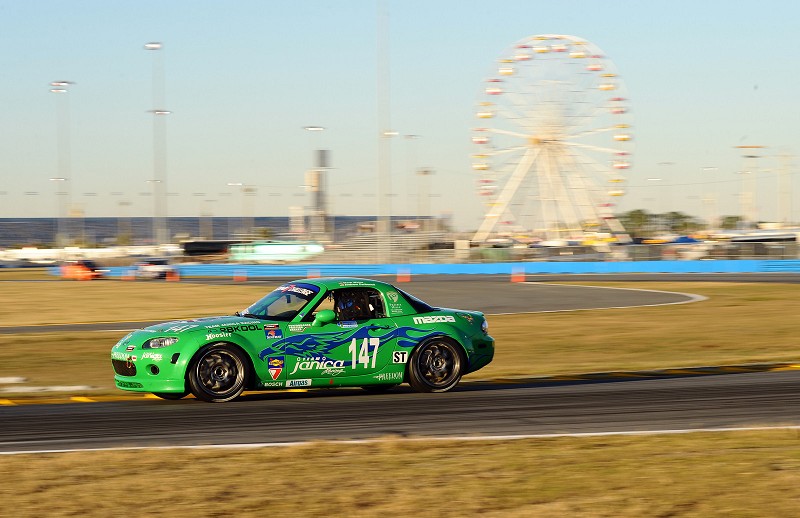 Posted (03/07/2009) - ANN ARBOR, Mich. - Driver Christian Maloof has signed with Freedom Autosport for four races in the 2009 Grand-Am KONI SportsCar Challenge Series. The Ann Arbor, Mich.-based Maloof, who honed his skills in the Great Lakes circuit, is a veteran of two seasons racing with NASA in the GTS3 division.

Maloof joins Mark White in the no. 147 Freedom Autosport/Team Janica Racing Mazda MX-5 for races at Homestead-Miami, Thunderbolt, Watkins Glen and Virginia International Raceway (VIR, where Sarah Cattaneo joins them). "I am really looking forward to working with Tom and the crew," said Maloof, "they have been extremely helpful and have made my transition into Grand-Am painless."

For Maloof, opportunity comes not a moment too soon. Said Maloof, "my goal to drive in Grand-Am has been realized earlier than expected and that is due in no small part to Freedom and Mark White." A mutual friend, who believed Maloof and White would form a strong driving partnership, was instrumental in bringing them together. "The opportunity to partner with someone with Mark's driving ability is a dream come true," commented Maloof, adding that "Mark has been very generous in sharing his experience regarding the track, race data and knowledge of the car with me."

Maloof and co-driver White, who first met at an Audi Club D.E. event several years ago, stayed in contact as Maloof honed his driving skills. "Christian and I discussed driving together when he visited Daytona for the KONI race this past January," said White, "I could see the fire in his eyes." Knowing the challenge drivers face in breaking into the Grand-Am series, he affirmed, "he has really hustled to put this program together. I know he works even harder on the track and I am stoked to be part of his KONI Challenge debut!"

Team manager Tom Long is pleased to see Freedom's lineup in place. "Having Christian on our lineup joining Mark is perfect," said Long, adding, "he will be able to apply his experience from club racing venues at center stage in the Koni SportsCar Challenge Series. I plan to see the #147 Mazda MX5 towards the front many times this season. This is, by far, a driver lineup our whole team is excited about!"

Maloof's first race with Freedom is on March 14 at Homestead-Miami Speedway. "I think Christian will compliment the Freedom Autosport MX5," said White, adding "Both exude precision, and that combination should put us right in the hunt!"

More information about the Koni Challenge at Homestead is available by visiting http://www.grand-am.com/rolex/schedule/event.cfm?eid=865. The event will be webcast live at http://www.grand-am.com/rolex/multimedia/tv.cfm.