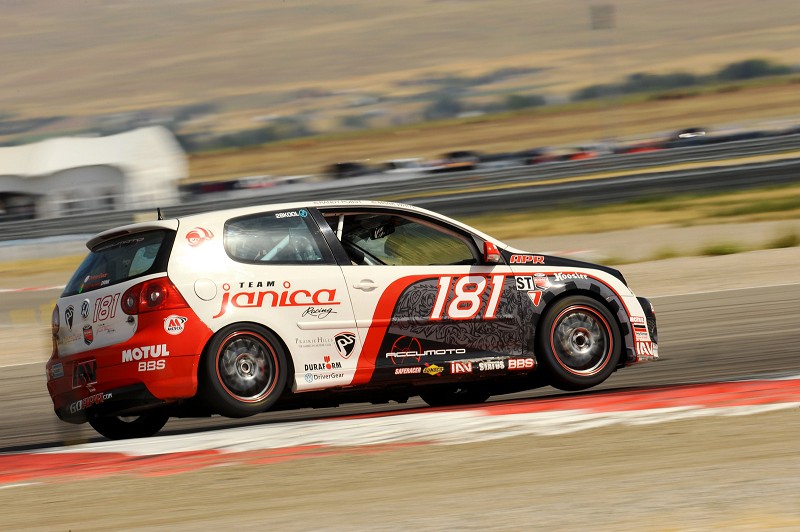 Posted (09/20/2008) - Tooele, Utah - APR Motorsport team drivers Dion von Moltke and Mark White took advantage of cool morning air in Utah to put their turbocharged VW GTI race cars in positions 2 and 5 on the grid for the Sunday's KONI Challenge race at Miller Motorsports Park.

The APR crew worked exceptionally hard to calibrate engine management in both cars to match 4,400ft base elevation here at Miller and the success was evident with today's qualifying results. The engine management work, coupled with cold air and a circuit design that suits the VW's, resulted in yet another top five qualifier for APR in it's inaugural season.

Dion von Moltke, who teams with Ian Baas, paced the APR cars, placing his #171 VW GTI second on the grid on his third lap of qualifying. von Moltke ran a 3:15.642, missing the pole by a mere .033, the time difference between first and second equaling 3.995ft after an entire 4.5 mile lap. Dion said about his qualifier: "I am really happy at the second place grid position, though I'd be lying if I didn't say I really wanted that pole! I am really excited for the race tomorrow and I want to thank the crew for giving us a simply fantastic car."

Mark White, who teams with Randy Pobst in the #181 Team Janica VW GTI, continued his streak of three top five qualifiers in the last six races, placing his car 5th on the grid overall.

White on his qualifying: "I am pretty happy with my qualifying. The crew worked really hard to give me the best car possible and I gave them my best in return. Given one more lap and I think I'd have seen a top three, but that's just the way racing goes. My last two races here at Miller have ended with podiums, so I hope to keep my streak alive tomorrow!"

APR Motorsport races tomorrow, Sunday, September 21 at 11:15am local time. Real Time scoring of the race will be available at konichallenge.com tomorrow during the 2.5 hour race.