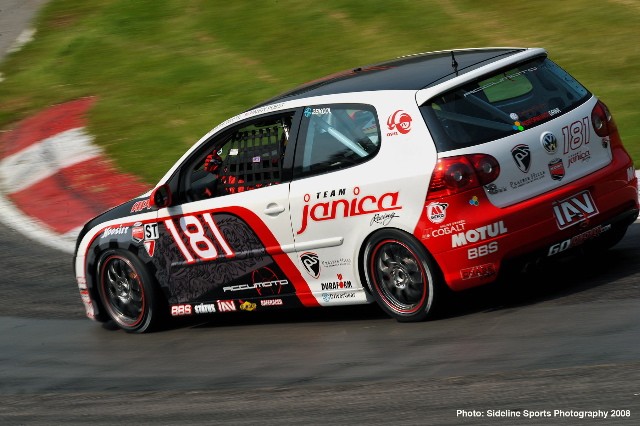 Posted (06/13/2008) - For Immediate Release:

Bowmanville, Ontrario - The APR Motorsport GTi's showed continued developmental success at Mosport International Raceway today with both cars qualifying in the top ten for the first time this season.

Mark White, who drives the red and white schemed #181 APR Motorsport/Team Janica Racing Gti, qualified 7th overall. White, who hails from Madison, Wi, has had great success at Mosport in the past, winning here in a prototype in IMSA Lites just last year.

White said "I am really happy with the way the car ran today and our qualifying success. Being 7th on the grid really makes those first laps more safe, keeping you out of the middle of the thirty plus pack of cars The car just keeps getting better at every event and I can't thank my crew enough for the car they put under me today. It was really nice to qualify far up the grid and it's great to think that I'll be handing the car over to Randy Pobst, who undoubtedly knows Mosport about as well as anyone."

Pobst said about the qualifying: "Mark did a fantastic job. He was simply flying out there. The car is really starting to come to us, which is great, considering this is only our third race of the season. We still give up a bit of horsepower and weight to the fastest cars in class, who we really don't have anything for yet, but we have a strong and organized team and I see us improving at each race as the season progresess. Hopefully we can get a podium tomorrow."

Dion von Moltke, from Miami, FL, had an almost equally fantastic qualifying, putting the silver and white schemed #171 APR Motorsport/Team Janica Racing GTi in the 10th spot overall on the grid. von Moltke, who had never been to Mosport until this week, had to overcome a few minor mechanical issues in practice as well as an unfamiliar track in order to place his GTi in the top ten.

Dion said about his qualifying result: " This weekend has been quite an experience. We missed a bit of practice time due to a mechanical problem and we had most of our practices shortened due to two accidents. I really had very little time to learn this super fast and exciting circuit, so I am very happy with the top ten qualifier. Randy, Ian and Mark, as well as local racer Aaron Povoledo, gave me a bunch of info as to the fast line and how to get around this track as quickly as possible.

Mark and I worked together in qualifying and this proved beneficial to both of us. This series is just so competitive, every little bit helps. Mark and I are 1/10th of a second apart, and that was worth three spots on the grid. Our media ops guy was figuring out our average speed and over the entire circuit, 1/10th of second, the difference between 7th and 10th, is about 13ft over an entire lap. This alone shows how competitive the racing should be tomorrow."

Ian Baas, who co-drives with von Moltke, added: "I was just sitting on the pit wall watching the times come in and cheering Dion and Mark on! My teammate (Dion) just kept getting faster and faster. 15th, then 13th, then 12th, then 10th. Had the qualifying lastest ten more minutes, Dion would have likely been right up there near Mark.

Our car has been fantastic this weekend and I'm hoping for luck to come our way in traffic. Rain is a possibility for tomorrow and these GTi's have proven very fast in the rain. We're ready for what happens tomorrow and I'd sure love to see the podium tomorrow!"

The 2.5 hour KONI Challenge race starts at 1pm EDT on Saturday, June 14. Live timing and scoring can be followed at: http://grand-am.com/livetiming/



For questions or concerns, contact APR Motorsport Director of Media and Public Relations, Mike Stahlschmidt, at mike@motorsportspersonalities.com or 847-899-5121.